American Book Fest honored Moments as a Finalist in the Novelty & Gift Books category of the 2022 Best Book Awards. Moments is a gift booklet of inspirational photographs and sayings from award-winning author and musician Sonya Haramis, M.Ed.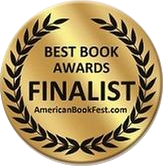 Jeffrey Keen, President and CEO of American Book Fest says of the awards, "Over our 20-year history, thousands of self-published and indie authors have leveraged the promotional power of their Best Book Award to increase online recognition, enhance their title's credibility, and garner more attention in the crowded book buying marketplace."
Thousands of entries were submitted by authors and publishers from around the world, including Harper Collins, Penguin Random House, Hay House, Hampton Roads Publishing, Sounds True, Zondervan and hundreds of others.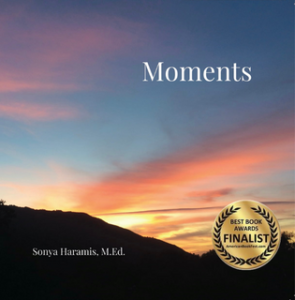 Moments invites readers to escape, dream, reflect, meditate and relax. With lush photographs of ocean, beach, sky, sunset, roses, and crystals, readers are reminded they are surrounded by peace, beauty, and grace. There are also some pages for readers to journal and images to color. Sonya reminds readers that life is made up of precious moments and to create and enjoy them. Love is there for us in every moment, in all moments.
Moments is a perfect gift for loved ones or for oneself and is available from New Leaf Distributing and from Amazon.
Inspired and inspiring Moments is a gentle reminder of how precious each moment is in life. Simply stated, Moments is a thoughtful, life affirming, and unreservedly recommended gift for a loved one or for oneself.
-Midwest Book Review
American Book Fest is an online publication providing coverage for books from mainstream and independent publishers to the world online community and has an active social media presence with over 132,000 current Facebook fans.
Please visit: https://peaceofthedreamer.com/moments