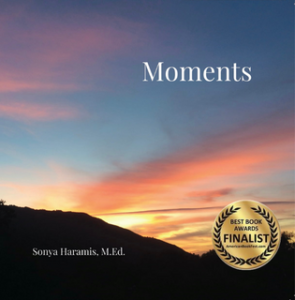 NEW – Moments © – Gift Booklet Photographs, text, book design, and artwork by Sonya Haramis, M.Ed.
MOMENTS is a beautiful booklet of inspirational photographs and sayings, available now from New Leaf Distributing and from Amazon. It invites the reader to escape, dream, reflect, meditate and relax. With lush photographs of ocean, beach, sky, sunset, night time sky, roses, and crystals, readers are reminded they are surrounded by peace, beauty, and grace. If they invite silent awareness into their lives, readers can experience every moment as precious.
MOMENTS is the latest book from award-winning author Sonya Haramis, M.Ed., who Liz Illgen of New Age Retailer wrote "will establish herself as one of the great spiritual storytellers of our time…" Sonya reminds readers that life is made up of precious moments and to create and enjoy them, and that love is there for us in every moment, in all moments. There are also some pages for readers to journal and images for them to color. MOMENTS is a perfect gift for loved ones or for oneself, and is a gentle reminder of how precious each moment is in life. Order your copy here!
AWARDS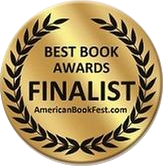 American Book Fest, Best Book Awards, Finalist in Novelty & Gift Books
REVIEWS                                                                                                                         In a world of books that reach out with gentle offerings of understanding and comfort, occasionally there is one that stands out: Moments from Sonya Haramis, is one such book filled with love that reaches out through gentle words, illustrated perfectly by exquisite photography. From the first page, the words 'Look for the moments in life' reach out to remind us that life is made up of a series of perfect moments that we are offered every day, but in our so busy worlds, often fail to notice or take the time to enjoy. With this delicately woven story created with simple words, we are once again reminded to take a moment to simply be; to relax and enjoy the miracles of life, created purely for our personal enjoyment. Each page in Moments captures one special instance in time which moves over several images to tell a small story; to sooth in the moment, to offer pure love. Each of the pages can be used as individual 'mantra's' for those blue days and dreary moments when a little gentle light needs to shine inwards. Divided into segments the first, Moments invites a small journey of understanding, before the gently relaxing into Serenity, Stillness and Love.  At the end of the book Haramis has included pages to capture your thoughts, followed by several pages to complete and colour, concluding with pages to write your dreams. Inspirational composer and award winning author Sonya Haramis has, with an elegant simplicity of both words and photography, created a small book of Moments which will become a treasured possession and one that will be used often to lift the spirits and lighten the soul.                                                                                                                                -Janet Mawdesley, BlueWolf Reviews                                                                                                                                                                                                                                  Inspired and inspiring Moments is a gentle reminder of how precious each moment is in life. Simply stated, Moments is a thoughtful, life affirming, and unreservedly recommended gift for a loved one or for oneself.                                                                                                                                -Midwest Book Review
AUTHOR SPOTLIGHT – Sonya's interview with MyBookPrinter