For Immediate Release: May 2022
Moments, NEW booklet of inspirational photographs & sayings from award-winning author, Sonya Haramis
Every moment of life is precious. Moments, the new booklet from Sonya Haramis, is now available and is the perfect gift for a loved one or for oneself. Enjoy the beautiful photographs and uplifting sayings. Escape stress, reflect and relax.
Moments is a beautiful little booklet of inspirational photographs and sayings is now available from Peace of the Dreamer at New Leaf Distributing. It invites the reader to escape, dream, reflect, meditate and relax. With lush photographs of ocean, beach, sky, sunset, night time sky, roses, and crystals, readers are reminded they are surrounded by peace, beauty, and grace. If they invite silent awareness into their lives, readers can experience every moment as precious.
Moments is the latest book from award-winning author Sonya Haramis, M.Ed., who Liz Illgen of Retailing Insight (formerly New Age Retailer) wrote "will establish herself as one of the great spiritual storytellers of our time…" Sonya reminds readers that life is made up of precious moments and to create and enjoy them, and that love is there for us in every moment, in all moments. There are also some pages for readers to journal and images for them to color. Moments is a perfect gift for loved ones or for oneself, and is a gentle reminder of how precious each moment is in life. Order your copy here!
Moments is a lovely companion to Sonya's album of relaxing, ambient music called Return of the Soul, also available from Peace of the Dreamer at New Leaf Distributing! Both Moments and Return of the Soul help create a deeply relaxing environment and inspire meditative inspiration. Perfect for spas, healing or retreat centers, massage therapists, meditation, focused study, or to help one sleep.
_______________________________________________________________________________________________________
For Immediate Release: November 2021
Return of the Soul, NEW album of serene music from Sonya Haramis
Return of the Soul, Sonya Haramis' debut album of beautiful New Age music, is now available on all major streaming platforms, including Spotify, Pandora, iHeartRadio, Apple iTunes, YouTube, Amazon Music, Facebook, Deezer, Tidal and others around the world, as well as CDs from retailers such as CD Baby.
Click here to listen to free audio clips and order!
Every piece of this creation — including the exquisite rose who gifted us with her presence for the album cover, and the love poured into this music — is meant as a source of joy for all of us.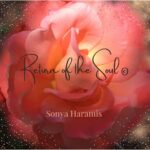 Remember who you are.
Remember where you came from.
These angelic and harmonic songs may melt away stress, anxiety, fear, and help listeners relax and feel a sense of calm during these uncertain times. Listen, relax, release. This debut album of soothing New Age music is perfect to listen to while meditating; as ambient music while studying, working, creating, writing; or perhaps as a way to help you fall asleep.
With all of the noise "out there," it is vital to create sacred moments of quiet time, stillness, serenity, and peace. Sometimes people need help to do that, or help to quiet the mind chatter that beckons us out of peacefulness. Music can ease us into this calm state of mind and is the perfect companion to walk with on a path of peace.
Order Return of the Soul debut album today and melt into a world of bliss.
_____________________________________________________________________________________________________
For Immediate Release: October 2011
The Mom's Choice Awards® Names Sonya Haramis' New Children's Book Among Best In Family-Friendly Products

Mom's Choice Awards Distinguished Honoree
Marina, CA: The Mom's Choice Awards® has named The Adventures of Lumi Nary Light A Fairy Tale of a Teeny Tiny Angel written and illustrated by Sonya Haramis among the best in family-friendly media, products and services.
The Mom's Choice Awards® (MCA) is an international awards program that recognizes authors, inventors, companies, parents and others for their efforts in creating quality family-friendly media, products and services.
Parents, educators, librarians and retailers look for the Mom's Choice Awards Honoring Excellence seal of approval when selecting quality materials for children and families.
An esteemed panel of judges includes education, media and other experts as well as parents, children, librarians, performing artists, producers, medical and business professionals, authors, scientists and others. A sampling of the panel members includes: Dr. Twila C. Liggett, ten-time Emmy-winner, professor and founder of PBS's Reading Rainbow; Julie Aigner-Clark, Creator of Baby Einstein and The Safe Side Project; Jodee Blanco, New York Times best-selling author, Priscilla Dunstan, creator of the Dunstan Baby Language; Patricia Rossi, host of NBC's Manners Minute; Dr. Letitia S. Wright, D.C., host of the Wright Place™ TV Show; and Catherine Witcher, M.Ed., special needs expert and founder of Precision Education, Inc.
MCA judges are bound by a strict code of ethics, which ensures expert and objective analysis free from any manufacturer association. The evaluation process uses a propriety methodology in which entries are scored on a number of elements including production quality, design, educational value, entertainment value, originality, appeal and cost.
To be considered for an award, each entrant submits five identical samples of a product. Entries are matched to judges in the MCA database. Judges perform a thorough analysis and submit a detailed assessment. Results are compiled and submitted to the MCA Executive Committee for final approval.
The end result is a list of the best in family-friendly media, products and services that parents and educators can feel confident in using.
For more information on the awards program and the honorees, visit MomsChoiceAwards.com.
For more information on Sonya Haramis, M.Ed. or Peace of the Dreamer, please visit www.peaceofthedreamer.com.
# # #
New Children's Book Lumi Nary Light Oct 2011 – pdf
Carmel Magazine, Winter 2008 – pdf
Gracious Gifts Expressions of the Divine – pdf
The Circle of Olympians – pdf
Dom Deluise On Sedona Talk Radio (August 30, 2008)
Dom DeLuise, beloved comedian, actor, chef and author, will join Sedona Talk Radio hosts Sonya Haramis and Joanna Paxinou in a special show on Tuesday, September 2, 2008 at 4:00 pm (PST), 7:00 pm (EST). Dom will be interviewed by Sonya, host of KEEPING THE PATH LIT, and Joanna who hosts AT THE MOVIES WITH JOANNA on www.sedonatalkradio.com.
In a warm, delightful interview, Dom will discuss his book, EAT THIS…AGAIN IT'LL MAKE YOU FEEL BETTER!, share his love of cooking and food, his friendships with celebrities, as well as loving family memories of growing up in Brooklyn and his mother's favorite recipes, who in trying times would say, "Eat this…you'll feel better."
The interview will also be archived on Sedona Talk Radio, which is partnered with Blog Talk Radio that has about 3.3 million listeners per month.
Dom, a 12-year veteran of THE DEAN MARTIN SHOW and many film roles, including Mel Brooks comedies BLAZING SADDLES and SPACEBALLS and co-starring with his good friend, Burt Reynolds, in several movies, including Dom's favorite THE END. Dom, also an author of children's books, THE POUCH POTATO and NO PLACE LIKE HOME, is busy finishing his latest book, PIZZA ANYONE? Dom also hosts his own radio cooking segment every Saturday on the syndicated show ON THE HOUSE with the Carey Brothers. Visit www.domdeluise.com for more information.
Sonya is an award-winning author of GRACIOUS GIFTS…EXPRESSIONS OF THE DIVINE and THE CIRCLE OF OLYMPIANS. The theme of her show, KEEPING THE PATH LIT, is that we keep the path lit for one another and can be angels to each other. Liz Illgen in her review for New Age Retailer said, "…Sonya Haramis will establish herself as one of the great spiritual storytellers of our time…" Sonya's first book was endorsed by Deepak Chopra, James Redfield and Dr. John Gray. Visit www.peaceofthedreamer.com for more information.
Joanna, on her show AT THE MOVIES WITH JOANNA, highlights the great films and stars of Hollywood's Golden Era, 1930s, 40s and 50s, as well as exciting and poignant independent films. She interviews Hollywood insiders and provocative independent filmmakers. Joanna is a screenwriter and just completed her first mystery, A KILLER IN THE HOUSE.
Inspirational Books From Peace Of The Dreamer Win Top Awards (June 30, 2008)
Marina, CA – Sonya Haramis, M.Ed., won three awards in the 2008 National Indie Excellence Awards. Her book of inspirational parables, "Gracious Gifts…Expressions of the Divine," was an Award Winner in two categories: Religious Fiction and Short Story Fiction. Her second book, "The Circle of Olympians," a modern Greek myth, was an Award Finalist in Multicultural Fiction. This is the third award for "The Circle of Olympians," which was an Award Winner in the National Best Books 2007 for Mythology/Folklore, and an Award Finalist in Visionary Fiction.
"I am so grateful. These awards provide validation and exposure for my work," said Sonya, a spiritual storyteller. She continuously strives to spread love, peace, hope, healing and magic in the world. Sonya is currently shopping the film version of "The Circle of Olympians."
Ellen Reid, owner of the NIEA, believes "it is essential for smaller publishers and authors to have a prestigious platform to receive well deserved recognition." An independent panel of experts from all aspects of the publishing industry – editing, marketing, publicity and design – judged the competition. More information is available on www.indieexcellence.com.
"…Sonya Haramis will establish herself as one of the great spiritual storytellers of our time…"
– Liz Illgen for New Age Retailer.
"Gracious Gifts…Expressions of the Divine" was endorsed by Deepak Chopra, James Redfield, Dr. John Gray, Midwest Book Review, and others. Of "The Circle of Olympians," Odyssey Magazine said, "…the magic of personal transformation is available to all, if we would only hear the voice of truth within."
Sonya hosts "Keeping the Path Lit" on www.sedonatalkradio.com. She is a member of PMA, is a Shodan/Black Belt in Aikido, and holds a Masters in Counseling Psychology and Development. Sonya is available for interviews, book talks/signings, and sacred travel. For more information about Sonya and her books, visit www.peaceofthedreamer.com.
The below excerpts are from Ray Napolitano's column, credited to the Monterey County Weekly
Serious Game (Aug 30, 2007) by Ray Napolitano
…Images of John Wayne or our boy Clint or any of the other American iconic loner stereotypes aside, it is the synergistic strength of the relationships we weave that determine our ultimate value.
That is something that Sonya Haramis, a local author, martial artist, spiritual guide and all around great person, fully understands. Author of Gracious Gifts…Expressions of the Divine as well as The Circle of Olympians, Sonya has just begun hosting a new Internet radio show on Sedona Talk Radio (sedonatalkradio.com) called Keeping the Path Lit. You can listen to it every other Thursday from 2 to 2:30pm Pacific Time or listen to archived episodes any time or subscribe to the podcast. Her next show will be on Sept. 6. If you go to peaceofthedreamer.com, her website, you'll be able to find out all about it.
Sonya's show features interviews, inspirations/thoughts, readings from her books and good news she wants to share. The focus of the show is that we all keep the path lit for one another and are angels for each other. Sedona Talk Radio is a new Internet station created by Daniel Stief to bring a variety of excellent live and recorded talk shows and interviews with people the world over and to be "a voice of peace, love and happiness on Planet Earth." Sedona is known as the spiritual, metaphysical epicenter of the United States.
Life Goes On (Jan 11, 2007), by Ray Napolitano
SPIRITS OF ANOTHER KIND… SONYA HARAMIS is in our hearts. This little local treasure has published her second book, The Circle of Olympians. It's a magical story about a young woman who travels on a mythical journey back into her Greek lineage, encountering Greek goddesses and gods along the way while she uncovers her destiny. Sonya, whose quiet persona camouflages a warrior's spirit, writes of humanity's greater struggles with good and evil, as well as our own destinies, in a manner that is easy to read, fantastical, yet down to Earth. Like her first book, Gracious Gifts…Expressions of the Divine, The Circle of Olympians is making waves throughout the genre and catching the attention of heavies like Deepak Chopra, James Redfield, and Dr. John Gray.
On Thursday, Jan. 11, at 6:30pm, Sonya will be talking, signing books and doing her thing at Pilgrim's Way Bookstore in Carmel, on Dolores between Fifth and Sixth. Check it out, it'll be really special. Sonya's Web site is peaceofthedreamer.com and Pilgrim's Way is pilgrimsway.com or 624-4955.
Stay Fresh (Nov 2, 2006) By Ray Napolitano
AGELESS IS THE NEW AGE
One of our local treasures, Sonya Haramis, just released her second book, The Circle of Olympians, a modern myth and spiritual adventure where a modern heroine meets the gods and goddesses of ancient Greek mythology. Of her first book, Gracious Gifts…Expressions of the Divine, DEEPAK CHOPRA said, "[It] offers hope and comfort to those in despair." James Redfield also loved it: "Sonya Haramis' profound words look to an age of joy, serenity, prosperity, and justice. A deeply rewarding read." These are heavyweight people, my friends.
Circle of Olympians will propel Sonya to Olympian heights as the world continues to discover this graceful little titan, whose message is always one of love and peace, and who comports herself with dignity and humility. We are fortunate to have her in our midst—check out her writings at peaceofthedreamer.com; find her books at New Leaf and Amazon.
Season of Friends (Dec 1, 2005) By Ray Napolitano
MY FRIEND THE WRITER… It's beginning to look a lot like Christmas, everywhere I go. Apparently, Americans are poised to spend somewhere around 500 billion dollars during the holiday season, purchasing all those "must have" items we've been convinced will make our lives so much better.
Advertising techniques have improved considerably over the past 40 years. Some of our most intelligent minds are devoted to the science of convincing people to perform certain behaviors. Like schools of sardines, our society simultaneously shifts its spending habits in the blink of an advertisement.
I suggest this be the year to perhaps slow down a bit to reconsider the original intent of the holiday season. Maybe take a little time off work; hang out with loved ones; exchange gifts of love and communication; reach out to someone in need with words of encouragement; hesitate a moment before reacting angrily; try to see the goodness in everyone.
One way to really capture the essence of what holidays are supposed to teach us is to check out my good friend Sonya Haramis' latest book, Gracious Gifts…Expressions of the Divine—a series of parables about a Dreamer who takes us face-to-face with the Master in the time and place of the ever-present. No less than Deepak Chopra, James Redfield and Dr. John Gray have all endorsed this powerfully fulfilling journey into the eternal and timeless moment, where we all learn our spiritual truths.
Ms. Haramis, who also studies aikido at the Monterey Aikido Center, has previously written The Circle of Olympians, a modern metaphysical children's book and homage to her Greek heritage. Look for them at www.peaceofthedreamer.com.