NEW – Return of the Soul © Album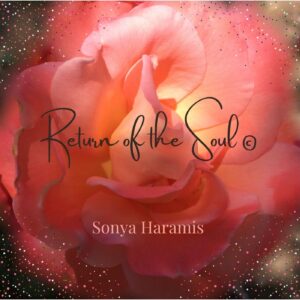 Return of the Soul, Sonya Haramis' debut album of beautiful New Age music, is now available on all major streaming platforms, including Pandora, iHeartRadio, Spotify, Apple Music, iTunes, YouTube, Amazon Music, Facebook, Deezer, Tidal and others around the world. CDs are available from Amazon, New Leaf Distributing, and CD Baby. Distributed through CD Baby and registered with BMI. For sync and licensing of music contact Sonya Haramis.
Click here to listen to free audio clips and order!
Every piece of this creation — including the exquisite rose who gifted us with her presence for the album cover, and the love poured into this music — is meant as a source of joy for all of us.
Remember who you are. Remember where you came from. Return of the Soul.
REVIEWS
5 Stars The sound of Nature echoes silence to the Soul
"With her first musical offering, author/publisher Sonya Haramis channels her joyful nature and spiritual energy into 7 contemplative, original, New Age compositions
. Sonya's spiritual rhythm attunes to the natural world, featuring various ensembles of birdsong, falling rain, and ocean waves within a meadow of 'acoustic' strings, harmonium, and bells. Pieces such as "Celestial Winged Spirit" gently guide the listener along a lyrical path where the sounds of Nature return us to a quiet oasis for the soul."
– M. Smith, November 2021

                                                                                                                                                                                  "From the opening notes, Return of the Soul literally resonated through my body. It captivated my mind to prepare me for the ensuing meditation experience. I also enjoy the experience while fighting traffic, a soothing escape. Love it!"
– J.W., California